Pobanz Family Christmas Greeting 2015

Here are some of our favorite pictures from throughout the year!

January
We kicked off the new year in Utah where we spent some great times with family. We returned to Germany and celebrated Adam's 17th birthday. Ally dressed up as Medusa as part her myths and legends studies at school.



February
Alec and Ally welcomed Fasching by dressing up. There were basketball tournaments as well for Adam and Ally.



March
March madness at our place included more basketball. Bret and Jolyn celebrated their 20th wedding anniversary. Allyson performed in a dance solo at school. We also moved up the street one whole house number, but oh, the stress! Bret hit a milestone by running his first 10K but don't ask how long it took him.



April
After clearing the moving boxes, it felt good to settle in our new home. We colored Easter eggs, and kids enjoyed the time in the tree house. We also took a trip to the charming town of Colmar in France and shared some adventures at Europa Park. Ally started participating in her new dance group. Adam was awarded MVP for boy's varsity baskeball even though he is still a junior! Bret, Jolyn, and Alec ran in a local race for chrarity - Alec's first race!



May
Unfortunately, Allyson had to spend a few days in the hospital with another concussion. However, after recoverng, she rocked her piano recital at school! Adam and Megan were voted prom king and queen! Alec turned 4. The whole family ran in the Color Run in Nürnberg. We made a fun stop in Ulm to see the birthplace of Albert Einstein hoping his smarts would somehow have an affect on us. Ulm also houses the tallest church spire in the world. We enjoyed a weekend of camping at Legoland. Allyson participated in a theater production at school.



June
Ally spent a week in the beautiful, medieval town of Rothenburg ob der Tauber. Bret and Jolyn spent a fun-filled weekend away in Frankfurt. We traveled to Cologne to "shake it off" at the Taylor Swift concert on Ally's 11th birthday. Adam and Ally finished another school year at the Franconian International School.



July
Jolyn finally joined Bret in the 40's. A birthday celebration that will not be forgotten soon due to the blistering heat wave. We had a fantastic trip to Bratislava and Vienna. Adam and Megan attended the Mumford and Sons concert in Berlin. We returned to Utah for some family time.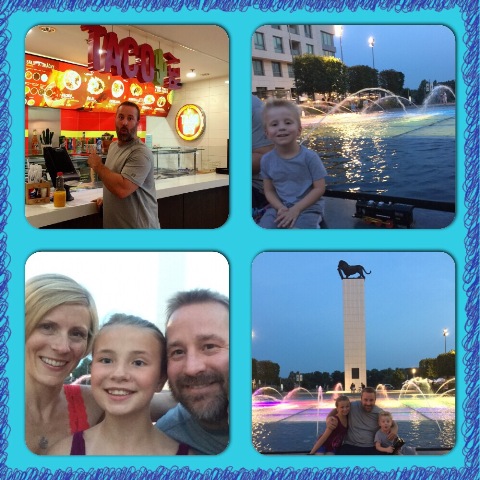 August
We loved our visit with family in Utah but struggled with jet-lag upon our return. Adam and Allyson started another school year. Adam's senior year and Ally's first year of middle school.



September
Alec went back to Kindergarten! Allyson attended space camp in Brussels, Belgium. We managed to get away nearly every weekend enjoying beautiful weather and spectacular sights.



October
We celebrated Bret's birthday. As class president, Adam represented the student body as he spoke at the opening of the new high school building. We decided to do something new and drive to England. We packed the car and crossed the channel on a ferry.



November
While in London, we watched an NFL game at Wembley Stadium. We also attended some musicals - Wicked and The Book of Mormon. Another highlight of the trip included seeing the Rosetta Stone at the British museum. When we returned home, Alec participated in the St. Martin's Day lantern parade. Jolyn was excited to receive her first job contract in 13 years.



December
Christmas markets were in full swing. We were forunate to see Regensburg, Nürnberg, and Fürth this year. Adam spent several days in Dresden with his school class and started varisty basketball training. All the kids had their school pictures taken. We traveled to Utah to spend the holidays with loved ones.



We hope that you are well and are enjoying the holidays with family and friends.

You can email us by clicking below:


Love,
Bret, Jolyn, Adam, Allyson, and Alec